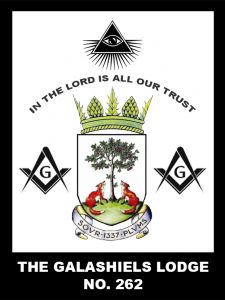 We meet at The Masonic Temple, 8 Galapark, Galashiels, Selkirkshire, TD1 1EU.
Our masonic calendar runs from September through March, with meetings being held on the second Monday in the month. Tile is at 7.00pm for Gala Brethren and 7.30pm prompt for visitors. We also have a summer meeting in June, during the Gala-Week festival, normally on a Tuesday evening during the Gala Week. Our annual installation is held on the fourth Saturday in March.
We would be delighted to welcome you into the lodge, and pride ourselves on our hospitality and harmony.
All meetings are 7.00pm tile for Gala Brethren, 7:30pm for visitors.
February 24th 2020: 3rd Degree (Special meeting, 7.00pm tile)
March 9th 2020: 1st Degree
March 28th 2020: Annual Installation (Volunteer Hall, 15.00 tile)
June 23rd 2020: Braw Lads Meeting – 1st Degree (Royal British Legion)